BKA Theater, 11th December 2019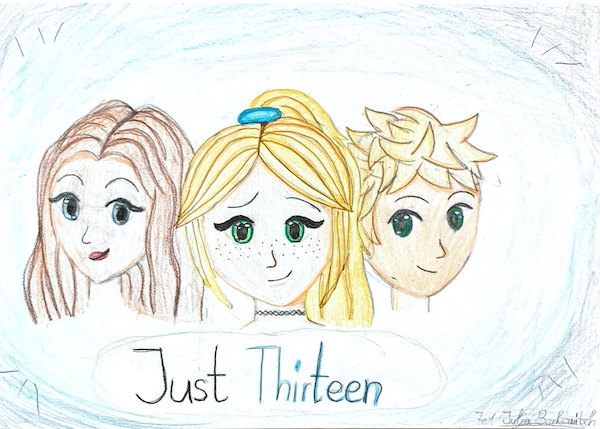 Drawn by Julia B. 7E1
"Just thirteen" is a theater play from the platypus theater, with a running time of 60 minutes. It's about the twins Katy and Tyler who turn thirteen and struggle with their teenage problems.
The main character is Katy. She hates school but she likes her best friend Nicole. Nicole is interested in boys but she's not sure which one. Katy has a twin-brother, Tyler. He likes playing video games with his best friend Miguel. The theater play begins at the morning of Katy's and Tyler's thirteenth birthday. At school, Katy and Nicole agree to meet at Katy's home. Nicole canceled at short notice because she will meet Miguel. The next day Nicole canceled again for the same reason. She writes something bad about Katy to Bobby and that's why the best friends have a fight. Katy didn't expect the difficulties of being thirteen. The ending of the theater play you will have to see yourself.
I liked the theater play very much because it shows the problems of being a teenager very well.
I also liked the acting of Katy. She was played by Charmaine Gorman. It was nice to watch her and you could see that she acted with emotion.
I think the theater play was funny and easy to understand, too! Therefore, I would recommend seeing the play. It will be worth it. 
Sumejja K. 7E1
Just Thirteen 
The theatre play "Just Thirteen" is about teenagers. The siblings Katy and Tyler had their 13th birthday and they didn't expect the difficult parts of being teenagers.
NICOLE:
Nicole is in love with more than one boy.And she loves BTS,Justin Bieber and Dustin from Stranger Things. She's also a person who forgets her things everytime. And she wears the color red too. Nicole wears a lot of make-up and lipgloss because she saw that other girls wear lipgloss. She had an ice cream date with Miguel and was so happy that she doesn't hang out with Katy anymore. But in the end they were friends again. Nicole also loves to dance.

I didn't like the character so much because I don't like people who are like that. But she was also nice and funny.
I liked the play because it was a theatre play for young people and it was funny and interesting.
Jessica K. 7E1
just thirteen
"Just thirteen "  is a theatre play. It is about Katy and her twin brother Tyler. They are going through puberty and it is about their problems in this time. The setting is their home and school.
 The main characters are Katy, Tyler and Nicole. Katy is not really happy because she doesn't really like the things other girls in her age do.
In the beginning it is Katy's and Tyler's birthday and they turn thirteen. Then Katy's best friend Nicole had a boyfriend and Katy and Nicole have a big argument, so they are no friends anymore. The ending you will have to see yourself.
I liked the play because it was about problems of teenagers and I have a few of their problems too. I think the theatre play is really funny and easy to understand.
Malena S. 7E1